swimsuit: weekday, skirt: topshop, sunglasses: weekday, bag: zara
if you ever go to cannes, i recommend you to go to a retro icebar called Glacier Vilfeu @ 18 rue Bivouac Napoleon, near the main street and the croisette. it looks so cool with its retro look, and the ice cream tastes amazing. they also have muffins, cookies etc.
i will definitely go back to that place! 
dress: zara
this shirtdress from zara is so soft and has a lovely, cold, blue color. its perfect and i love it.

#17 by straumfors

#16 by straumfors

#15 by straumfors
last year, when i was in new york, my sister and i walked up and down manhattan with flat sandals and ballerina shoes the first day. the second day, the first thing we did, was to hurry down to niketown where we bought some white and simple, but really comfy shoes. it was our best buy.
who said you can not look good, without killing your feet?

the view from my bed
my amazing shoes (again)
the local "pizzabus", it actually has a stoneoven inside, and the pizza tastes so good
cappuccino at a cosy café in cannes
relaxing in cannes
outfits will come; but im here in france and some days the outfit is only a bikini... not that exciting
meanwhile, you can check out my polyvore
must haves for a summer in the sun:
FACE THE DAY - this summer i go for the natural look, with nearly nothing on my skin. for me, face the day, is perfect. it is a tinted moisturizer with spf 15, aloe vera and vitamin a - super for sunkissed skin.
BIKINI - for me, a black, simple bikini is a must. it fits every skintone, and looks so good! mine is from cheap monday.
SUNGLASSES - (obviously) find some perfect sunglasses for you, to wear when you are reading in the sun or walking in the shopping streets or just hide behind them when you feel for it
from zara
finally these babies are mine! i have actually bought them before, but when i came home i found one of the heels was about to fall off, so i had to deliver them back.. today i found them on 50%! yay! 
as i said, im on holiday, and i dont know if i will blog everyday, but we will see!

i have some ideas for a couple of posts, but what do you want to see on flleurs in the future? please tell me!
(i need some more inspiration, and i would love to hear your thoughts)

top: hm, skirt: topshop
alaine xxl white unlined leather jacket
this jacket is a dream.

/ jacket: zara, shirt: vintage, shorts: sinnequanon, bikini: cheap monday /
i've walked around in my own world today, and on days when you do that, drinking coffee at café cathedral is pretty nice. my white coat/jacket from zara is pretty nice too.
/ dress filippa K jumper american apparel /
#06 by straumfors
#05 by straumfors
#04 by straumfors
what i want to wear right now. une. deux. trois.
(Q: who has made your design? A: i have made it myself)
amazing crystal headpieces from maison martin margiela
silver shoes from maison martin margiela
simple and clean maxidresses from calvin klein

photo: hanna lauridsen
look who's featured on hannas photography blog again!
more pictures here 
from nelly

photo: kaja dons, editing: me
music: the xx - crystalized (the neon lights remix)
jumper: american apparel 
3 pictures from last week. im home again. sweden was amazing.







/ instagram straumfors /
nå har jeg kommet hjem fra bodø og lofoten, i morgen går turen til sverige med hanna og kaja!
Hvor får du inspirasjonen din fra?
Jeg får hovedsakelig inspirasjon fra blogger, mennesker jeg ser hvor enn jeg er, blader, musikk, kunst, tumblr ... det meste egentlig. men jeg tror at disse 6 "kildene" er de største
hvilke blogger leser du?
jeg har blitt lit lat for tiden når det kommer til å lese blogger, men de jeg oftest er innom er vel stylezebra, fashionzebra, sverreerikberg, marthinesorthe, vanillascented, angelicablick, elinkling, loveaesthetics
Hvilke butikker handler du mest i?
weekday & zara 
Hva er det som må til for at du skal kjøpe noe?
om det er verdt prisen, om det passer til det andre jeg har, at det passer til meg, at det ikke er "for mye"..... jeg vet ikke, hvis jeg liker det, og det er "rent" nok for meg, og hvis jeg synes at prisen passer
Hvor får du penger fra?
jeg tjener de ved feks å være barnevakt (noe jeg er en del) også får jeg litt fra foreldrene mine også 
Hvilken linje skal du gå til høsten?
jeg skal gå studiespesialiserende:) 
Kan du beskrive deg selv som person?
jeg er virkelig ikke god på å beskrive meg selv... haha. det eneste jeg kan si er at jeg er et kattemenneske (ikke tenk "im gonna die with 178 cats")
Hva gjør du på fritiden?
fritiden min går til skole (når det er det), venner og ting og tang som jeg liker å gjøre (alt fra musikk til jogging til byturer) 
Driver du med sport?
nei, ikke noe spessielt. jeg har funnet ut at ballsport ikke er min greie i det hele tatt, haha, men jeg elsker å jogge 
hvem inspirerer deg?
angelica blick, maria nguyen, sophie loiloi, en del av vennene mine, elin kling, yvan rodic/facehunter, marie nord - mennesker som gjør det de vil, det de liker, mennesker som viser at ting går an; de inspirerer meg 
hvilke mote blader leser du?
costume er vel egentlig det eneste jeg leser fast, også koser jeg meg med noe ekstra i blandt:) i tillegg tar jeg med meg weekday og vixen hjem fra byen 
hvilken by har du helst lyst å reise til?
jeg vil tilbake til NY og paris igjen, og stockholm kommer jeg aldri til å få nok av. københavn har jeg aldri vært i faktisk, så dit håper jeg på å dra snart! shanghai feks. virker også fantastisk! 
hva er yndlings merket ditt?
jeg tenker egentlig ikke så mye på merker, men det går jo mye i weekday, og acne har jeg alltid elsket. 
Hvor er solbrillene på bilde fra?
zara 
Hvor gammel er du?
jeg er 16! 
Hvor bor du?
utenfor oslo 
Hva slags humor har du?
"tumblrhumor" (vet ikke hvordan jeg kan beskrive dette nermere)
har du kjæreste?
nei, det har jeg ikke 
hvem er dine beste venner?
de er de beste, og vet hvem de er selv:) 
Kan du lage sminkevideo eller/og hårvideo?
det kan jeg sikker gjøre, men jeg vet ikke helt hva hårvideoen skulle handlet om..? gjør egentlig ikke så veldig mye med håret mitt:)  
hvor mye penger bruker du på klær/sko i måneden?
det varierer veldig fra måned til måned. jeg har ingen fast "inntekt", så hvor mye penger jeg har varierer fra tid til annen. det kommer jo også an på om det er noe jeg synes er fint i butikkene 
is there something you're wondering about? do you have any questions? is there something you want me to know?
ask me. tell me.
and what do you wish to see on my blog in the future?
/ i'll answer in a day or two /
/ dress weekday sweater zara bag (france) shoes rizzo sunglasses cheap monday /
/ tshirt monki shorts weekday (new) shoes rizzo /
ah, this outfit is so me - i love it.
this morning i met hanna, who came home from shanghai yesterday, at a small café to start the morning with a cup of tea
i am an cataddict and she gave me this amazing cat cover for my iphone, im in love.

tonight im going to bodø, and ill bring you guys with me!
chanel le vernis nail colour 545 attraction


cheap monday cryokinesis dark turtle


who doesnt love sale? i found a lovely pair of shorts and a dress in my favorite color (purple) @ weekday today
i love the sunglasses from cheap monday, and the nailpolish from chanel is my new favorite color for my nails
(ill show you the dress and the shorts later)
keywords for my summer atm:
white nails
comfy, nice clothes
rain
a lot of coffee
nice music
frame black handmade sunglasses
romantic taff ice blue taffeta gathered mini
cadette transparent clear vinyl toiletry bag (to use as a clutch)
rise black ankle boots
tshirt bikbok skirt zara shoes steve madden bag (france)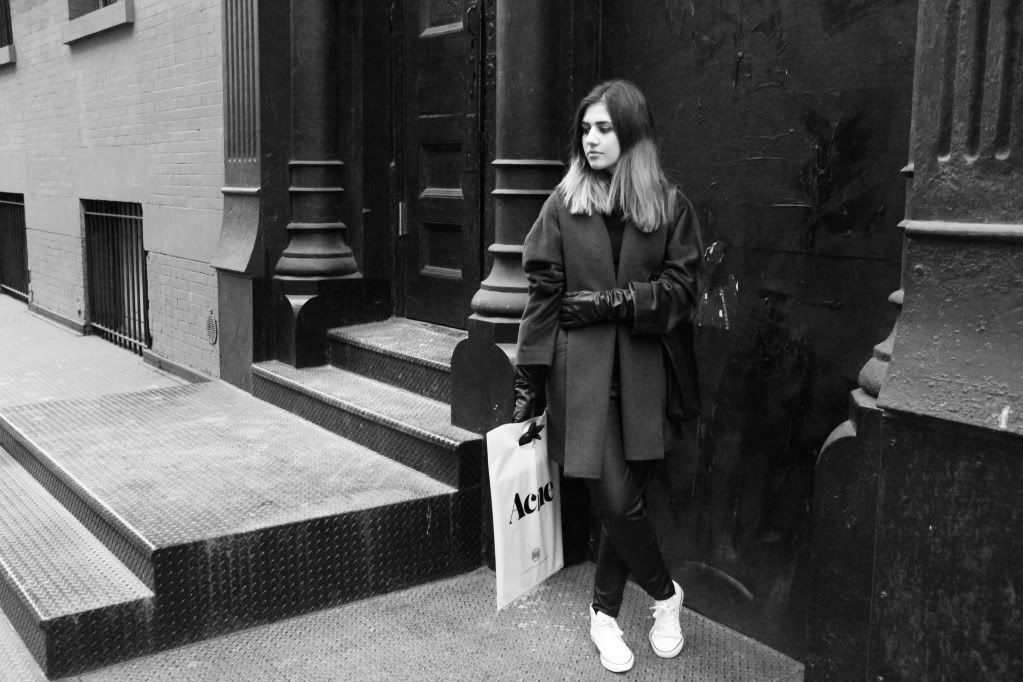 SOPHIE LOILOI
/ www.theparallelstyle.blogspot.com / 
/ www.sophieloloiphotography.tumblr.com / 
Sophie Loiloi is an 18 year old fashion photographer from Texas, US.
key words: minimalistic, simple, clean
i love her style, and she is one of my favorite photographers
(click the tumblr-link and be amazed) 
ANGELICA BLICK
/ http://nyheter24.se/modette/angelicablick /
i have read angelicas blog for a while now, and you know what? i can not get enough of this girl. i absolutley can not.
she is just so cool, chick and cute.
(she was the cutest when we met her at the vixen blog awards)
whatever she does, it ends up good. give me your hair and face, angelica.
 
MARIA NGUYEN
/ www.vanillascented.freshnet.se /
she is just so perfect, her blog is just so perfect. everything is so simple and clean; just the way i love it.
minimalism. minimalism. minimalism.
i wish i had her wardrobe. 
shoes rizzo dress vila
/everything is from weekday