picture1,3,4_tumblr
alaine xxl white unlined leather jacket
this jacket is a dream.
amazing crystal headpieces from maison martin margiela
silver shoes from maison martin margiela
simple and clean maxidresses from calvin klein
frame black handmade sunglasses
romantic taff ice blue taffeta gathered mini
cadette transparent clear vinyl toiletry bag (to use as a clutch)
rise black ankle boots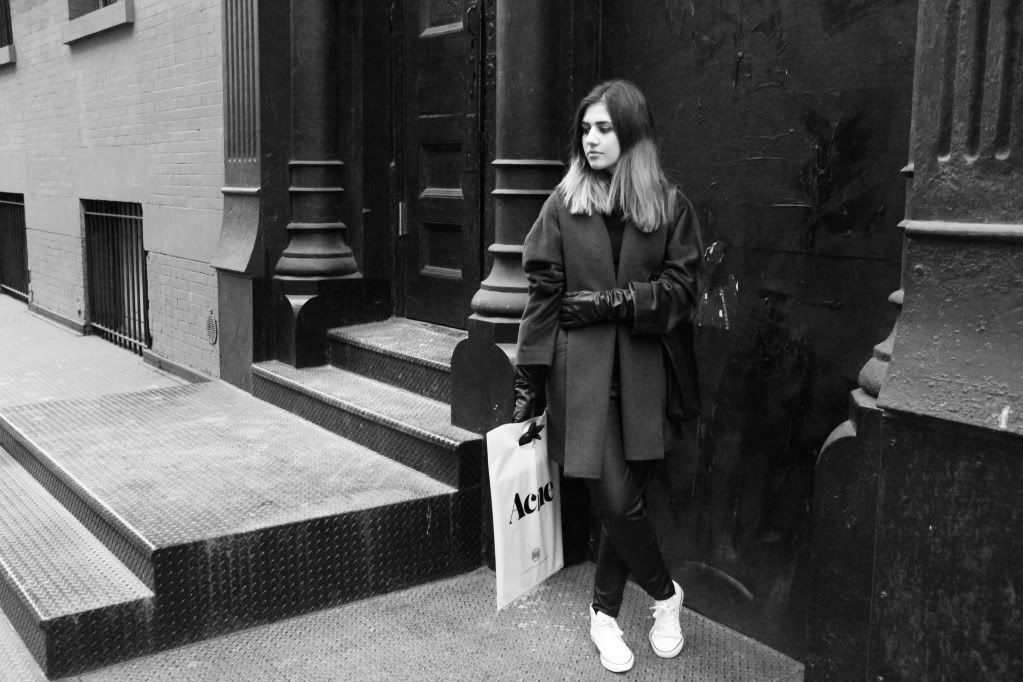 SOPHIE LOILOI
/ www.theparallelstyle.blogspot.com / 
/ www.sophieloloiphotography.tumblr.com / 
Sophie Loiloi is an 18 year old fashion photographer from Texas, US.
key words: minimalistic, simple, clean
i love her style, and she is one of my favorite photographers
(click the tumblr-link and be amazed) 
ANGELICA BLICK
/ http://nyheter24.se/modette/angelicablick /
i have read angelicas blog for a while now, and you know what? i can not get enough of this girl. i absolutley can not.
she is just so cool, chick and cute.
(she was the cutest when we met her at the vixen blog awards)
whatever she does, it ends up good. give me your hair and face, angelica.
 
MARIA NGUYEN
/ www.vanillascented.freshnet.se /
she is just so perfect, her blog is just so perfect. everything is so simple and clean; just the way i love it.
minimalism. minimalism. minimalism.
i wish i had her wardrobe. 
/everything is from weekday
the whole picture - l.o.v.e
all black. flatforms. sandals. black shoes. socks. skinny legs.
beautiful metaphores. beautiful words. beautiful writings. beautiful quotes.
simple beds. sunlight. white white white.
swimsuits.
boys who dress well. the blue colors. fashionshows.
beautiful drawings. simple. minimalistic.
source:tumblr
found @ polyvore
ah - i want everything!
_tumblr

hvilke liker dere best?
_vogue uk may 2012
/zara woman lookbook april'12
/ vogue uk may 2012

(massive attack - paradise circus)

(memoryhouse - to the lighthouse (millionyoung remix))

(kings of leon - closer (presets remix))

(lexicondon - december sunset)

(we plants are happy plants - rise and fall (peace breaks out version)) 
lillacism er min fashion/inspiration tumblr - hope you like it

(meg i dag // søtt og sant sitat jeg fant på tumblr // chrisophe mae - mon paradis // en fin badedrakt fra zara // meg i går (siristra på instagram)
imorgen drar jeg til marokko, hvor jeg blir til mandag. noe som gjør at jeg ikke får skrevet noe her. men - vi skal kjøre i en jeep rundt i marokko og se det meste man burde se der, så når jeg kommer hjem skal dere få se masse bilder! marokko har jo en helt annen kultur enn det vi har, så det blir spennende! jeg gleder meg veldig veldig til å se det, fargene og markeder!
hvis det dukker opp noe internett i løpet av dagene jeg er der nede, kommer jeg til å poste på intstagram, så hvis du har iphone, follow meg på instagram: siristra

ha en super påske! 
(photos:  robertaridolfi.com)
ramlet over disse fine bildene i dag. inspirasjon inspirasjon inspirasjon.